Description
EXBAND is an US based company manufacturing high quality natural latex resistive bands for resistance training and rehabilitation in Physical Therapy, Fitness and Strength Training.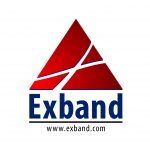 The latex material is imported from Malaysia, the origin of high quality natural latex. In a chemical process, it is compounded with menthol imported from South America, the keenest smell of spearmint.
EXBAND is the main supplier of famous USA and European brands for many years. We know very well the market needs in different parts of the world.   We decided to unify highest features of different brands supplied in the past under the umbrella of EXBAND trademark.
EXBAND becomes prominent with its high features of Low Latex Allergy, High Stretching, Fresh Fragrance and Low Powder level.
EXBAND has ISO 9001:2008 and ISO 13485 certificates in respect of manufacturing process for latex. All EXBAND resistive exercise bands are CE certified.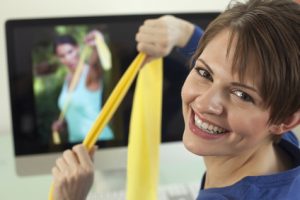 Why Exband Resistance Bands?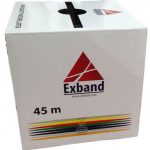 EXBAND Resistance bands are available in 8 color-coded resistance levels in 45 meters or 5 meters boxes that relate to their resistance level. Color-coding as follows:
Tan (extra thin)
Yellow (thin)
Red (medium)
Green (heavy)
Blue (extra heavy)
Black (special heavy)
Silver (super heavy)
Gold (maximum resistance)

In general, tan and yellow are used for early rehabilitation or weak people. The most frequent resistances are red, green & blue. Black, silver and gold are typically used by athletes.
PULL FORCE TEST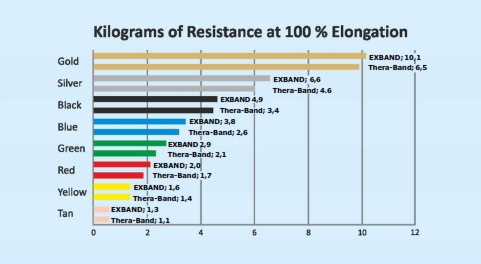 The resistance applied by exercise bands is based on the amount that the band is stretched. This resistance can be measured in kilogram of force depending on the percentage the band is stretched from its resting length; known as "force-elongation".
Regardless of how long the band is before it's stretched, the force produced at its stretched length depends on the percent elongation. For example, a 50 cm length of exercise band that is 100 cm (double its resting length), is at 100% elongation.
EXBANDS are manufactured in order to meet highest expectations in physical therapy, fitness and sports medicin markets.   EXBANDS tensile strenghts are tested by third party physical testing laboratories.   As shown below chart, all colors of EXBAND pull force are the same or higher than most known Thera-Band resistance bands.